Svenska: Handstickade vantar.
Alla mina vantar är handstickade i yllegarn, alpacka eller mohair.
Jag färger både växtfärger och anilinfärger. Vissa gånger blandar jag i samma vante.
Vart och ett par är unika. Det kan förekomma att mönstret på två vantar i samma par är olika.
Jag gör ofta vantar i olika teman.
Mina planetvantar, inspirerade av bilder tagna av rymdsonder, är mest känt.
Jag stickar även Siriusvantar, med inspiration från mina böcker i Siriuskrönikan.
Storleken är angivit i vanlig europeisk standard. Storlek 5 räknas som barnvantar och levereras alltid med löstagbar säkerhetslina med tofs.
Vantarna kan tvättas i maskin i ylletvätt 30 grader C.
Alla vantpar kostar SEK 350 direkt från mig oavsett storlek.
För att köpa: kontakta tora.greve(at)siriussolarsystem.se
Betalningsmetod: Swishnummer 0761155681, kort, kontant, faktura med bankgiro
Frakt vantar i postens blå påse L SEK 79 eller upphämtning i Malmö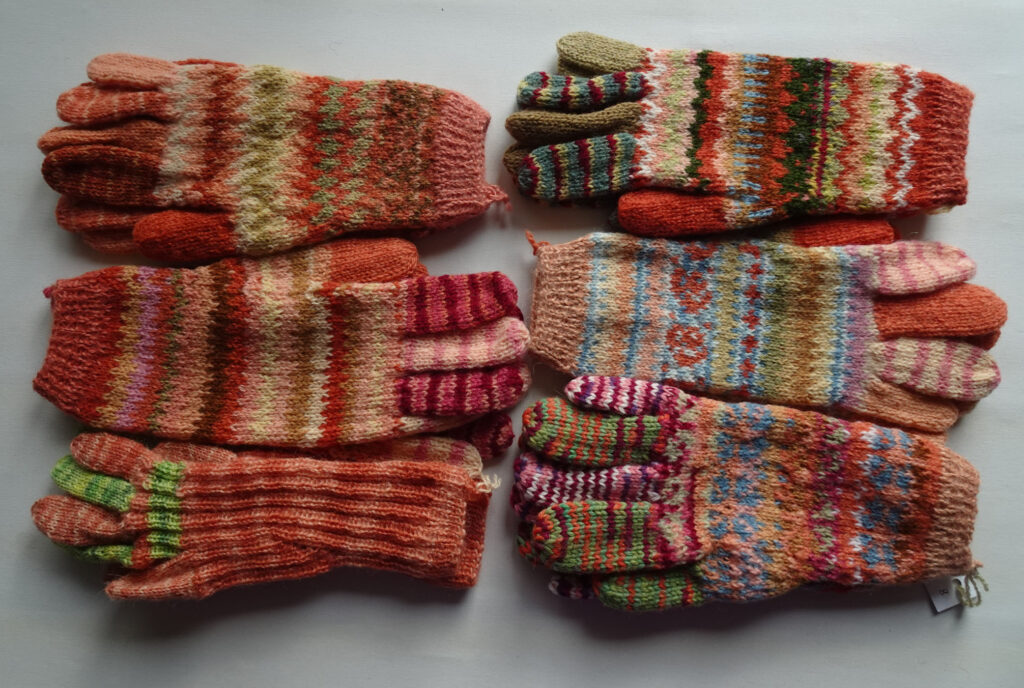 English: Handknitted gloves and mittens.
All items are handknitted in wool, alpaca or mohair.
I dye the yarn either with natural colours or with anilincolours. Sometimes the two are mixed in the same item. Every pair is unique. Sometomes even the two gloves in one pair are a little bit different, depending on how much yarn there is of the same colour.
I often knit gloves and mittens in different themes.
My planetgloves are inspirated by pictures taken in space by satellites.
I also have a Sirius theme inspirated by my own fantasybooks on the Sirius Chronicle.
Size is according to European standard. Size 5 is regarded as children's size and are delivered with a removable security string with a tassel.
Gloves and mittens can be machinewashed in 30 centigrades.
They all cost SEK 350 regardless of size.
Paypal invoice when you order by email.